2020 NHT State Conference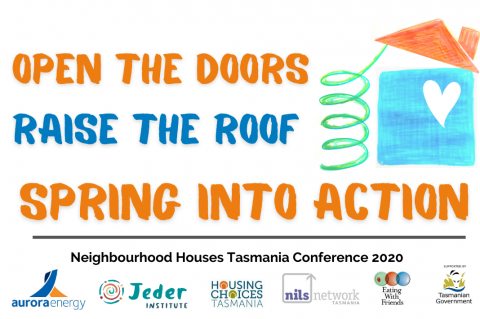 Open the Doors - Raise the Roof - Spring into Action
Conference 2020 is here. 
We're building on the experiences of last years intro to ABCD - Asset-Based Community Development. The team from the Jeder Institute are leaders in ABCD and will help us discover our gifts, skills and knowledge for working in and with our community. Michelle, Dee and Fiona from Jeder have considerable experience in running online ABCD focused conferences and training, including a recent global event with over 2500 participants over 2 days. You can find out more about their fantastic work at jeder.com.au
Yoga with Jen at Dorset: 8am 24 Sept
https://us02web.zoom.us/j/84505229247
Meeting ID: 845 0522 9247
Trouble shooting on the day:
If you are having technical issues and need some help, please - first try through the Chat in the Conference ZOOM link.
If you can't get to that for assistance, please call or text
Jonathan - 0429 581 095
Tracey - 0407 499 973
The ZOOM links are;
Main Conference:
https://us02web.zoom.us/j/85216465334?pwd=UEtGYjdYSnQrUlgzSFJjWmVoTzFRQT09
Meeting ID: 852 1646 5334
Passcode: 549601
One tap mobile
+61370182005,,85216465334#,,,,,,0#,,549601# Australia
+61731853730,,85216465334#,,,,,,0#,,549601# Australia
Dial by your location
        +61 3 7018 2005 Australia
MURAL Link
https://app.mural.co/t/jeder6502/m/jeder6502/1599531808906/7a4230cadcaf…
For afternoon group session - 4.30pm Wednesday
Managers -    Deloraine NH host ZOOM link:  https://us02web.zoom.us/j/9717605721
Meeting ID: 971 760 5721
One tap mobile
+61871501149,,9717605721# Australia
+61280156011,,9717605721# Australia
Board members -            Tracey Tasker to Host  - from Breakout room 
https://us02web.zoom.us/j/81105425188?pwd=UVBWN2xNdkdPenN3Nk5NalRUbWxodz09
Meeting ID: 811 0542 5188
Passcode: 553091
Gardening and Food Security - Louise. _Jo Dean
https://zoom.us/j/95132918382?pwd=Z0xEamlraHlNQksrdHhvMkpiWlJoUT09
Meeting ID: 951 3291 8382
Passcode: Food
MURAL
If you missed the sessions on how to use MURAL, and you would like to watch a five minute video on how to access this useful collaborative tool, open the following link and another Browser window, to access a trial MURAL board: 
https://app.mural.co/t/jeder6502/m/jeder6502/1599599600353/01ae66c75abcd7c05785dbc32c97f080933d6ad4
and watch this video.
Registration
Registration for Neighbourhood Houses.
Registration is free to Neighbourhood House staff and volunteers.  You can join with others at your Neighbourhood House - please talk to your House Manager.  Or you can join from your own home or other workplaces.  Please register.  This will ensure you receive all the right information to enable you to participate from the location that suits you. To register click on the Book Now button below.
Registration for other Community members, community sector and government workers.
Workers and volunteers from our partner organisations, other community groups or organisations and government workers are encouraged to join us.  To register click on the Book Now button below.  We're asking for a financial contribution that your feel appropriate.
Online collaboration.
We'll be using MURAL - a fantastic online collaboration tool.  We have two training sessions planned,
Check out an introductory video about MURAL here.
The Super Easy Guide to Using ZOOM
___________________________________________
Find previous conferences here: